There comes a time in football when a manager falls into the lap of a club and they just work. Hand in hand they represent each other's interests, desires and values to an extent that makes them a harmonic duo on the football pitch.
Bournemouth gave us this with Eddie Howe, Blackpool with Ian Holloway, and Claudio Ranieri with Leicester City. But those pale in comparison to the authenticity and synchronicity of footballing ideals that Rayo Vallecano had with Paco Jémez.
In 2012/13, Los Franjirrojos had the season of their dreams, a season that stood in deep contrast to the amateur nature of the club's ownership, who have only gone on to cause a rising threat to Rayo's long-term future.
The season began with an upheaval that has become common practice at Vallecas year-upon-year with manager José Ramón Sandoval leaving for pastures new, with the good graces of supporters after a memorable spell for Sporting Gijón, only to return in 2016.
Michu, famed for his one-season wonder spell at Swansea, left to begin his Premier League stint after becoming a talismanic figure in the red and white of Rayo in the season prior, with 15 goals in 37 appearances.
Yet, as the club have miraculously been capable of doing on a shoestring budget over the years, they quickly looked to move on and replace the quality that had left with players that could also live up to that level when required.
But they could do none of that without someone at the head of the restructure and that came in the form of the charismatic coaching journeyman Paco Jémez.
Fresh from a respectable season in Segunda División with Córdoba finishing in the final play-off place in sixth position, Jémez arrived in Vallecas knowing the task ahead of him would see his side viewed as an underdog in practically every fixture they played.
Most would be susceptible to falling into compact tactical shapes, a defence-first mentality that looked to frustrate the opposition, remaining resolute in hope of springing a counterattack.
Paco evidently did not get the memo.
He built a spine of his side that focused on expansive football. All his key signings, regardless of position, had to have confidence and composure to play on the front foot in tight spaces and under pressure from competitors.
Replacing Michu
Entrusting Leo Baptistão to replace the goals of Michu, calling him up from the club's B side in a decision that was met with concern by many supporters, believing that the move was made due to necessity, owing to a lack of financial backing rather than through judgement.
Whatever way in which Baptistão arrived within the first team fold, he certainly changed perceptions with seven goals and seven assists seeing him take on the mantle of Michu before him, driving the club towards their sensational 8th-place finish in La Liga.
Alongside the implementation of Baptistão into Jémez's newly assembled squad came the key trio of Alex Gálvez, Jordi Amat and Chori Domínguez.
Every one of those players developed the spine of everything that Paco Jémez was trying to implement. Their composure on the ball and vision to split the lines with playmaking passes enabled Rayo to sit further up the field naturally out of possession in a more aggressive manner.
Gálvez arrived from Sporting Gijón after being out of the picture towards the latter end of their previous campaign and was not fancied by Sandoval upon his early days in charge.
That sort of move summarised Rayo's transfer business of the time and it still paints a picture of it today. Picking up discarded players who were unfancied by their previous owners, gave them a home to play with freedom and a community that would give allowances for their errors and encourage them to improve.
The entire spirit that the club was founded on and has developed over the years in its culture and identity, translated into what the 2012/13 squad showcased on the field.
Jordi Amat joined on loan from Espanyol and latterly, following the end of one of Rayo's most successful campaigns, joined Michu at Swansea.
It was no coincidence that players from Rayo made their way to Wales. Through a succession of managers, Swansea invoked a similar spirit of freedom to express yourself on a football field and put entertainment high on their list of priorities.
Finally, Chori Domínguez, an arrival from Valencia following a successful loan spell in South America with River Plate, added that sense of flare in the attacking midfield position. Flowing arrogance shone through this Rayo team in clear idealism that they knew what their roles were and had full faith in everyone around them to execute the plan.
Strong start for Rayo
Seven points out of a possible nine in their first three games against Granada, Real Betis and Sevilla gave a clear indication of what was to be expected from Jémez's team. Baptistão made an instant impact and allayed the fears before the season that he would not live up to those before him.
After such a positive start there, three defeats on the spin as a follow-up may have given Paco food for thought on the way he was approaching games regardless of opposition, but his fearlessness and complete confidence in his aggressive style of play overshadowed any concern.
He and his team were more than happy to go toe to toe with the best of La Liga and it worked for them.
Scalps of Málaga at La Rosaleda and Valencia at Mestalla before the turn of the year showcased that his plan was being executed and the eye-catching nature of the play brought with it a growing appreciation for the spirit and courage of what was being served up.
Despite the free-flowing success of the possessional-based football on show, many pundits expected Rayo to falter in the second half of the season.
It was thought by many that this would be nature taking its course to see a side so financially limited and overachieving regressing to the mean before the final standings, but Jémez and his side had other ideas.
Being written off was welcomed by the club, its supporters, and its squad; it is what made Vallecas what it is. They were always a nuisance to the status quo from the Spanish Civil War through to La Liga; they were simply garnering the spirit of the community before them.
They followed up their 2012 successes with a vital victory at San Mamés against Athletic Club, with Lass Bangoura providing the spark when it mattered.
Bangoura played his best football during this season and consistently showed his pace, dribbling and playmaking ability to be a real asset to the side.
The monumental moment when it became clear this was not a small stint and that Rayo were going to fight it out for the European places came at Vallecas against Atlético Madrid.
A 2-1 victory with goals from Lass and Baptistão, the latter of which saw rumours of his summer departure to their Madrid neighbours intensify after this, heralded that this style of play and mentality was working wonders for the club.
But whilst all of the names previously worked as components to this well-oiled machine, one man flourished more than most.
Piti scored 18 goals in the finest season of his distinguished career. Captain at the time and the heart and soul of the club, Piti added the desired quality in the final third to push Rayo onward to their 8th-place finish.
When setbacks came and the system that had brought so many positive moments faltered for a spell in games, those around him knew they could rely on him to pull something out of the back to keep their consistency rolling on.
Yet, despite such a positive season, the ownership problems that belied the club throughout its time in La Liga and subsequently at present in Primera came to attempt to overshadow on-field achievements.
Three matchdays before the end of the season, Rayo sat with a mathematical chance of finishing in the last European qualification place of eighth.
Due to Málaga's suspension from European competition at the time, qualification could be made by finishing in the top eight rather than seven as Málaga occupied sixth place in the final standings.
However, a similar fate was to bestow Rayo as they were refused a license to compete in European competition due to their administration. Despite appeals none were successful and yet again the club had been let down by its owners.
Two victories and a draw in their final games meant they finished in the place required to see them trip around Europe competing against the best the continent had to offer, but Sevilla took up the mantle and Vallecas was left unable to experience what it so richly deserved.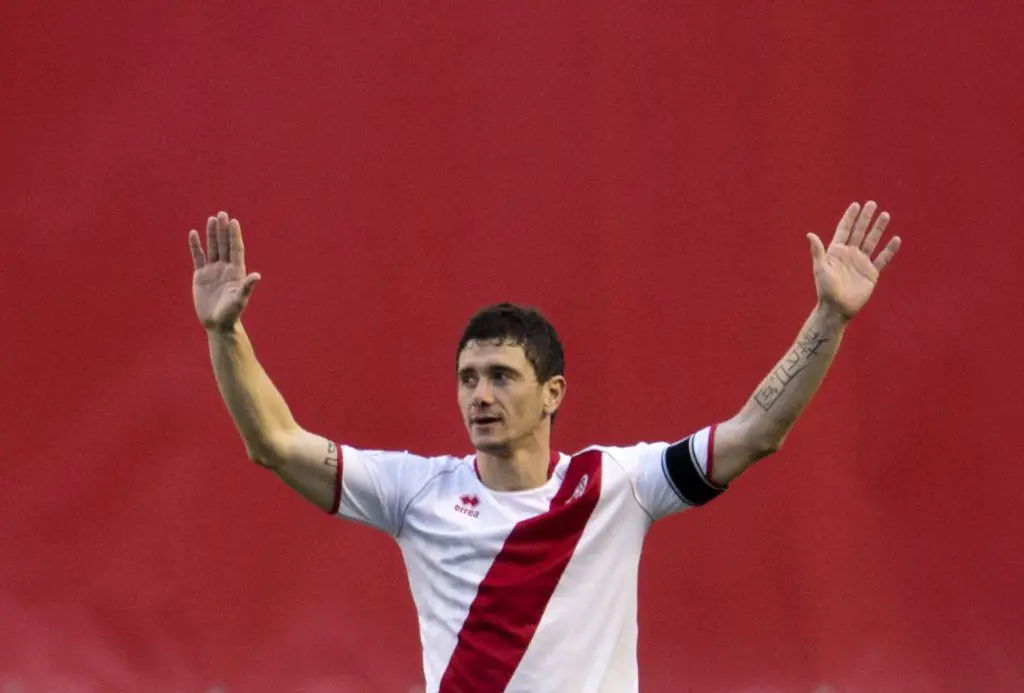 Most successful season in Rayo history
The club from the barrio finished the 2012/13 league campaign with 53 points. It was the most successful season in Rayo's history.
Paco Jémez cemented his place in the folklore of not only Rayo but Spanish football in general, and brought everyone along for the ride.
Rayo Vallecano very much became the second club of all who watched La Liga throughout the campaign, and it opened up the eyes of many as to what teams can still be capable of despite financial and resource constraints.
That fearlessness to attack every side in the league, to remain aggressive in the press and cover mileage in games that would not normally be expected from middling journeymen, all combined to create an eye-catching vision of what football is all about.