There are several different ways in which we can measure the "best" team displays in this season's LaLiga games.
We can obviously look at raw totals for shots, xG and so forth. Or we can focus on the superiority of a side over their opponents in those numbers. Then there are the likes of xG over-performance and passing metrics.
The pitfalls of using raw totals can be seen by our first table.
Atlético Madrid took 28 shots at home against Levante but lost without even scoring. Well, not in their opponent's net anyway – Atleti did manage an own goal from Mario Hermoso.
Similarly, Barcelona had 25 attempts on goal versus both Valencia and Alavés, only to draw both games.
Eibar were the only side not to manage a single shot in a LaLiga game, away at Atleti in mid-April.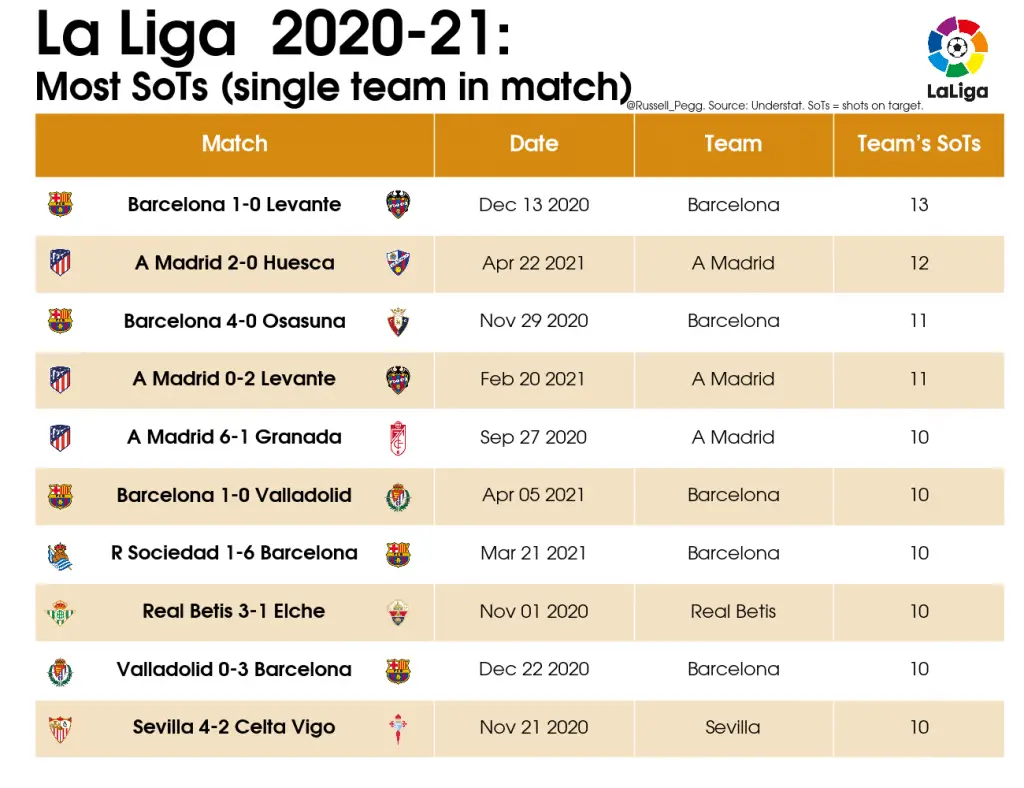 The shots on target table reminds us that even though the story ended badly for them, Barca were still excellent for prolonged periods of the season.
It also demonstrates that the more expansive football at Atleti that's been mooted for several years finally materialised this term.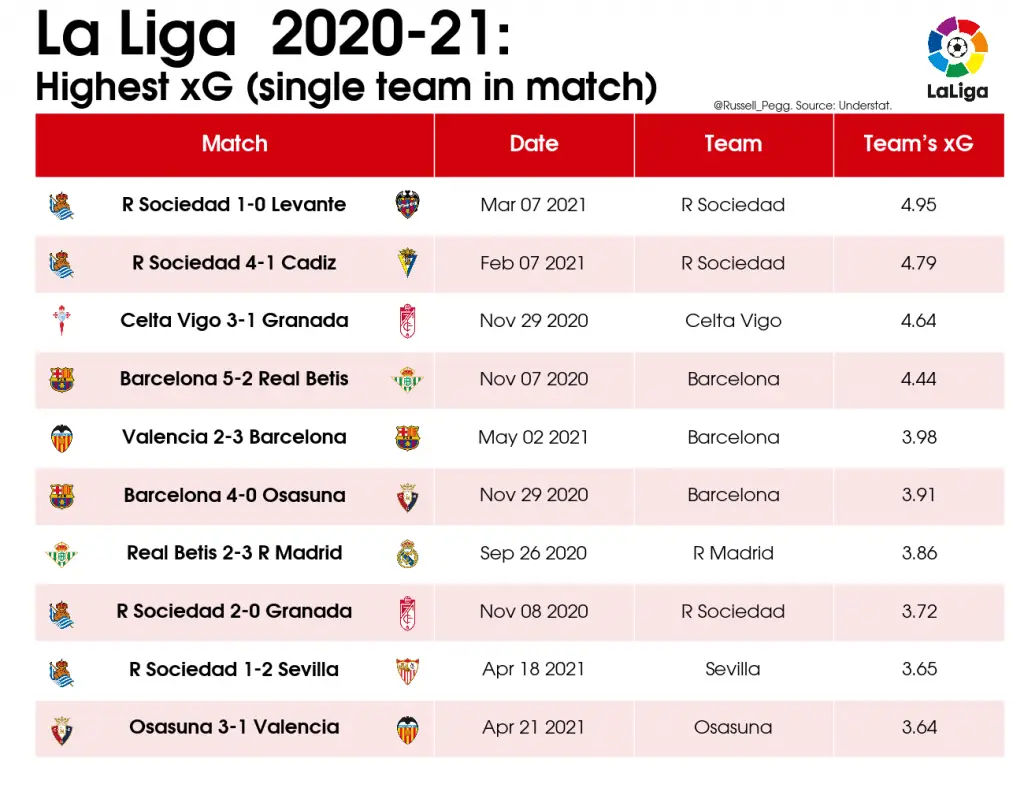 But if we look at the xG totals, we can see that when they were on song, it was actually Real Sociedad that created the highest quality of chances in LaLiga, though Imanol's side had difficulty converting them.
We can also see that Levante seem to have benefited from some remarkably flattering score-lines, even when they lost.
The Spanish top flight certainly doesn't appear to be the most shot-happy of places at the moment, though. No LaLiga games made it into the overall top tens across the big five European leagues for either a team's shots or shots on target.
The LaLiga average of 21.3 shots per game was also by far the lowest of those five divisions, with the supposedly defensive Serie A out in front on 25.
Moving on to teams' superiority over the opposition, that Atleti v Levante match again stands out.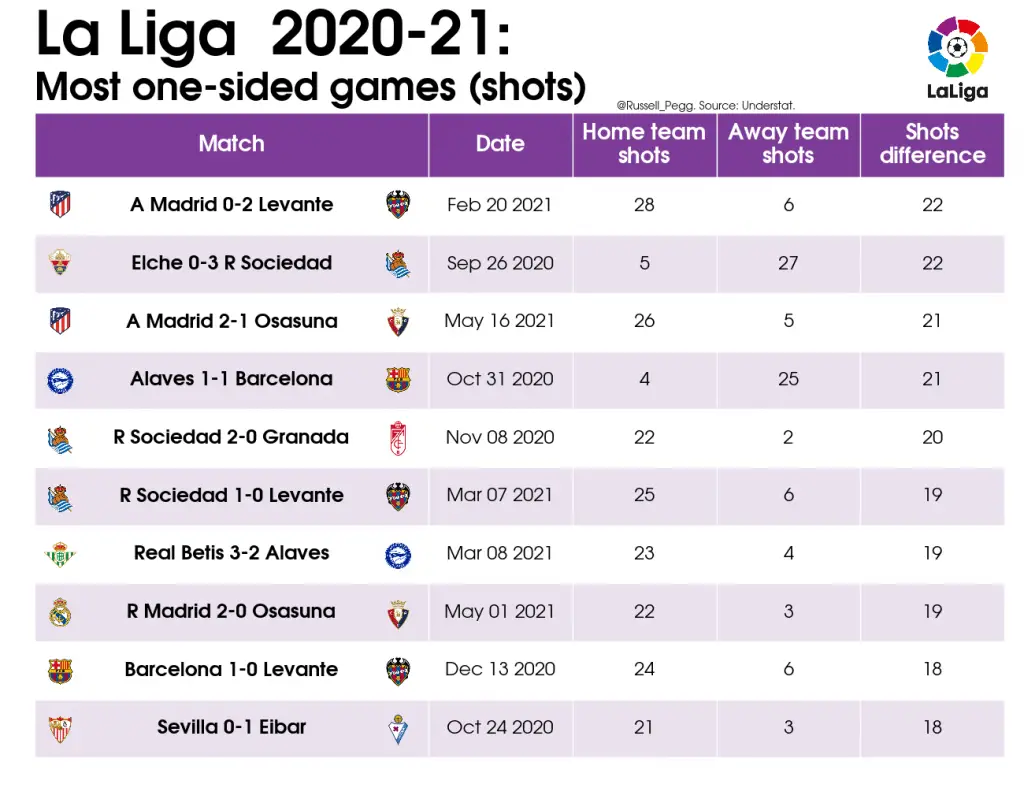 Levante won 0-2 despite only having two shots on target – nine fewer than Atlético Madrid – and just six shots in all (22 less than their opponents).
It was an extraordinary game, not least because Levante had never won an away league match against Atlético Madrid before and their keeper Dani Cardenas had only made one previous LaLiga appearance.
While Luis Suárez hit the bar from a free-kick, Cardenas proved unbeatable. And yes, Levante did score from the halfway line, with Jorge de Frutos shooting into an open net in the last minute after Jan Oblak had come up for a corner.
Cardenas' ten saves that day were only bettered this season by his team-mate Aitor Fernández's 12 against Barcelona a couple of months earlier in December, a game that also had the joint-highest shots on target difference in a LaLiga match.
There's further proof here, if anyone still thought it were needed, that xG is a more valuable gauge of teams' superiority in a game – all the results in the xG table went the way that the numbers expected them to.
Both the brilliance in terms of build-up and the wastefulness in front of goal of Real Sociedad again stand out in xG terms. La Real's home game against Levante was also the biggest xG under-performance in La Liga this season, with just one goal from 4.95 xG.
The biggest xG over-performance came in another remarkable game, Celta Vigo's act of daylight robbery when they visited Huesca in March.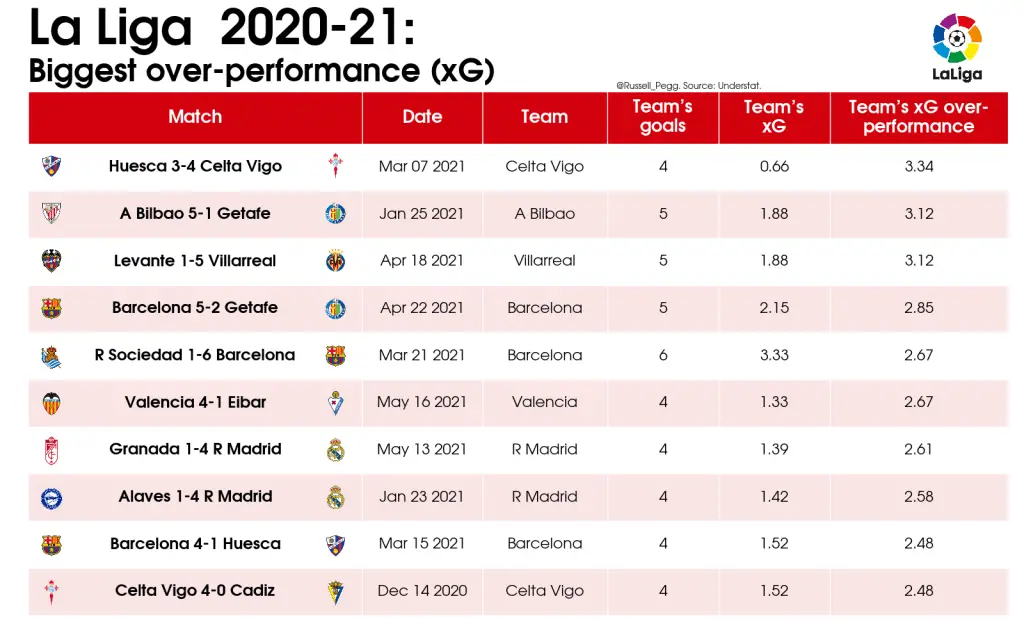 It's also apparent from the xG tables that when Barcelona were good, they were very good indeed.
And, finally, as we can see from a list of the teams with the most touches and most accurate passes in a game, Barca certainly haven't abandoned their principles this season.