Here we take a look back at this LaLiga campaign's best and worst games – in statistical terms, at least.
Some of the things that we love about matches – exquisite control, for example, or perfectly timed last-ditch tackles – remain impossible to gauge with publicly available data.
But most of what brings us joy on a football pitch can now be measured, even if there's disagreement over whether it's the lack or abundance of, say, cards and fouls that should be relished.
We'll start with the most obvious measure of all – the total number of shots in a match.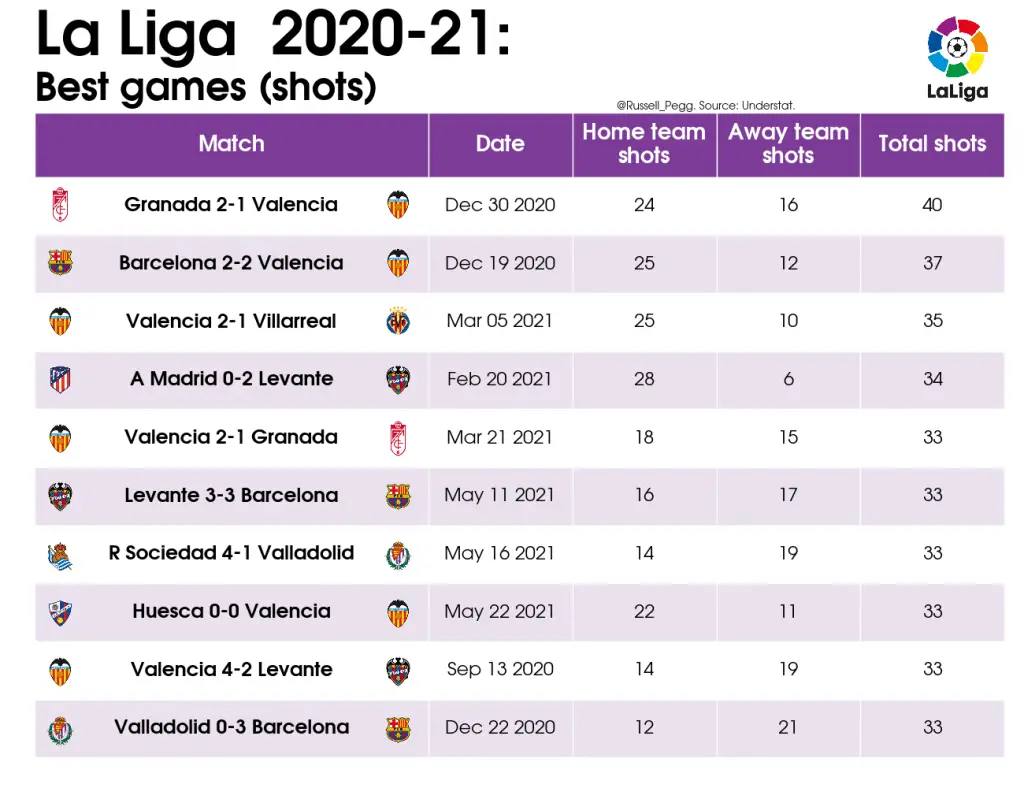 The Anil Murthy/Peter Lim approach last summer of selling many of Valencia's better players, often to direct rivals at bargain-basement prices, while also not spending any money on incoming transfers surprisingly failed to reap dividends this season.
But at least Valencia tended not to be boring to watch, as evidenced by six of their games being included here.
There were 21 shots per game on average in La Liga this term.
Moving on to total shots on target and expected goals (xG), it's easy to see why Barca, even though they may be a shadow of their former selves, have remained many neutrals' choice of team to watch – especially in the weeks running up to Christmas.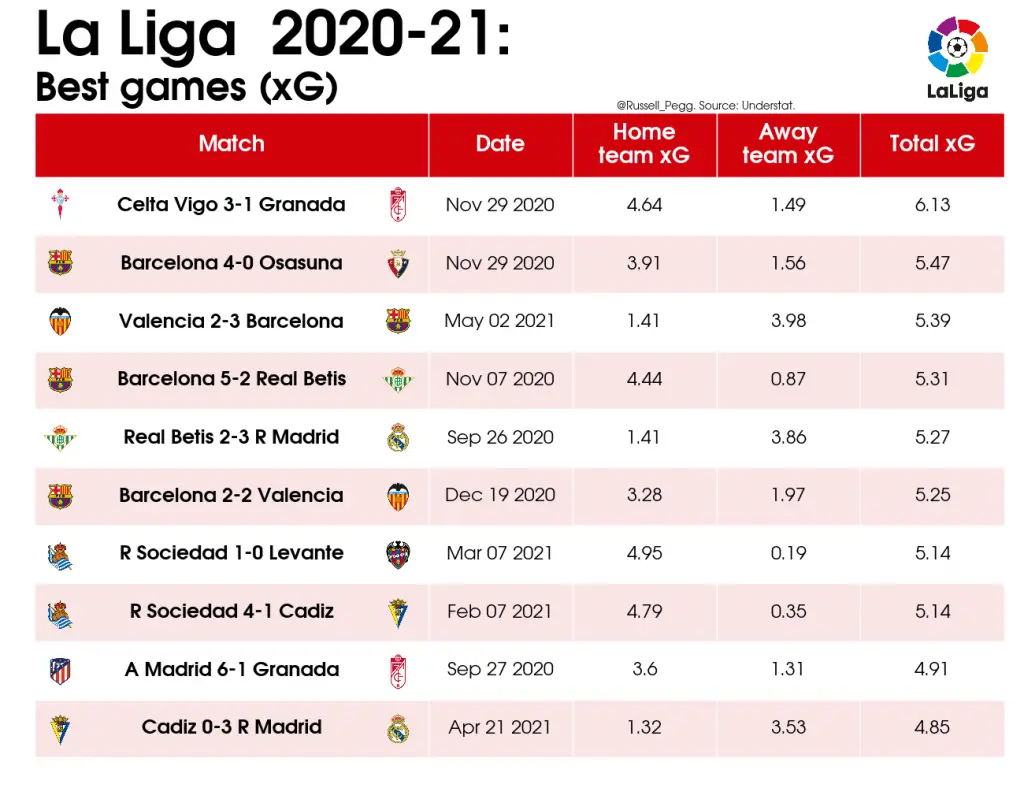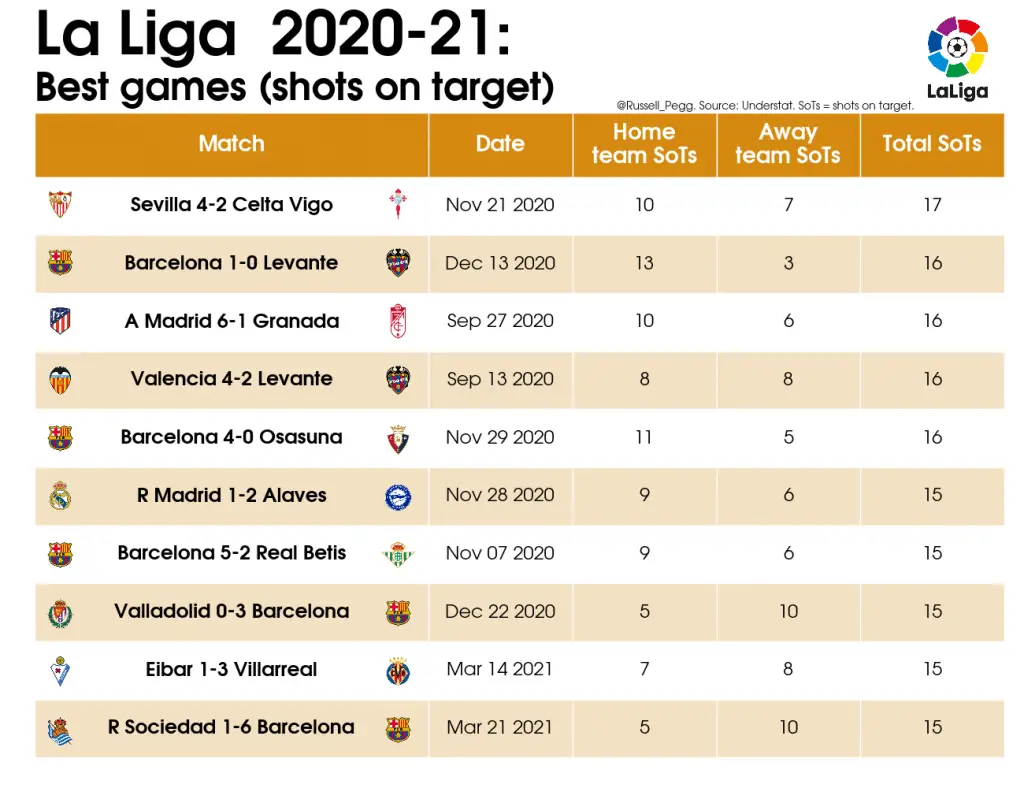 It's striking that while Barcelona feature in these lists 12 times, Real Madrid only appear on three occasions.
Next we'll look at the worst matches by these same metrics.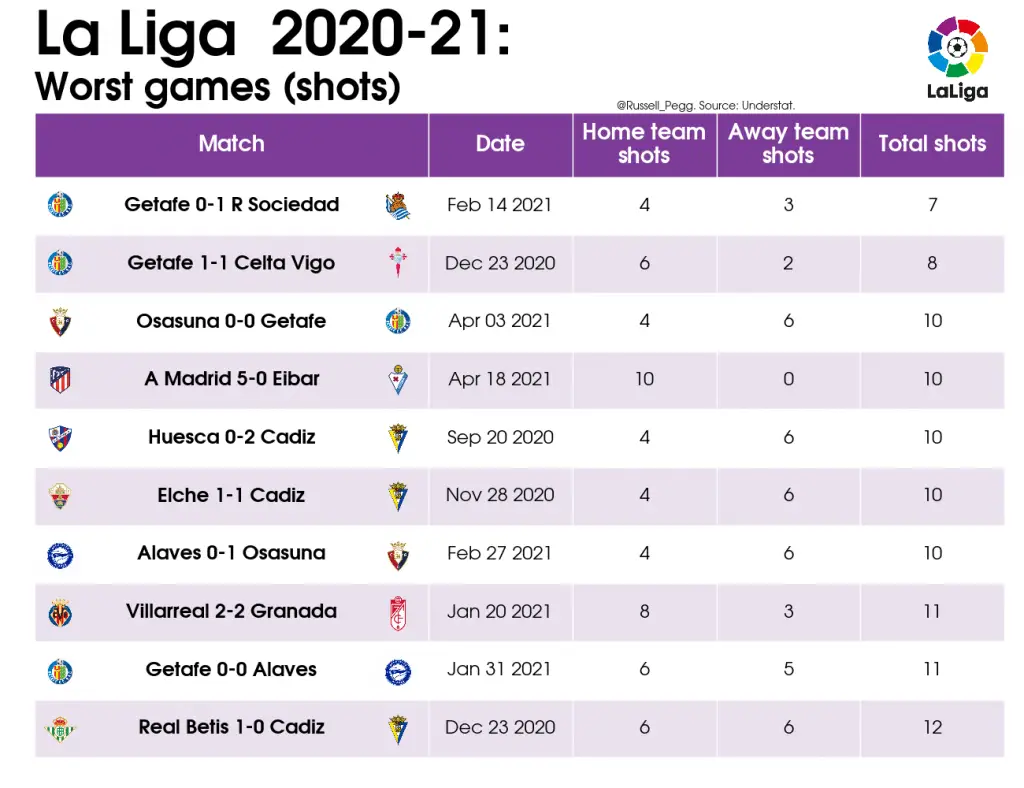 That Getafe v Real Sociedad game was a romantic Valentine's Day treat, with a grand total of seven shots to set hearts aflutter. Only Sassuolo v Udinese in Serie A had fewer attempts on goal this season in Europe's big five leagues.
Here's the arid, tumbleweed-infested shot map for the match.
And here in their 30-second glory are all seven of those attempts, one of which was a deflected cross.
Every LaLiga game had at least one shot on target, though it was a close thing at times.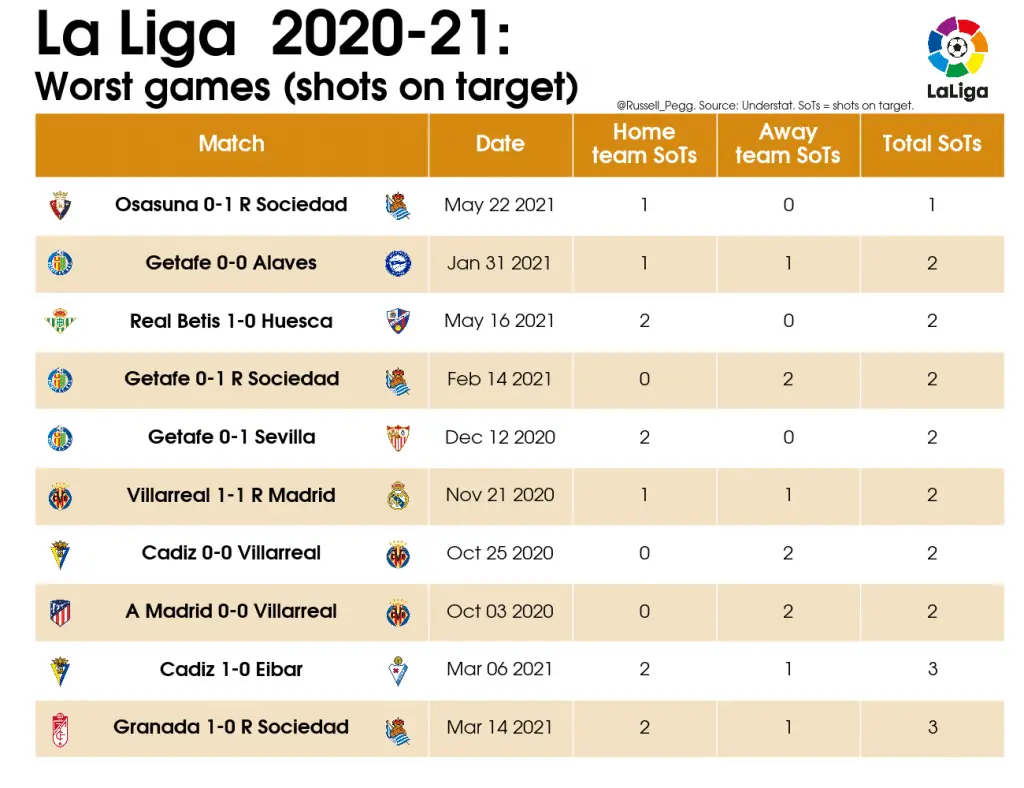 The Osasuna v Real Sociedad match on the final day of the season actually featured 18 shots in all, some remarkable misses from La Real among them.
Even the winning goal came from an off-target shot, with Alexander Isak hitting the bar from close range and the ball then rebounding in off the luckless Osasuna keeper Juan Pérez.
The game's only on-target effort, a long-range 79th-minute effort from Kike Barja, was so unremarkable that it didn't even make it into the match highlights.
In xG terms, it doesn't come as much of a surprise that the season's worst game was contested between Getafe and Osasuna.
Moving on to look at the percentage of long passes in games, it seems that LaLiga has unexpectedly become the home of hoofball.
Even if we include matches from each of the other big five European leagues as well, the ten games with the highest long-ball percentages were all in Spain – including four in which more than a quarter of passes were played long.
Eibar or Getafe featured in every one of those matches, with the season high inevitably coming when they met in November.
Predictably, those same teams also appear prominently in the matches with the greatest percentages of high and headed passes.
Getafe fans could be forgiven for feeling relieved that they weren't allowed into the Coliseum Alfonso Pérez this term, and Valencia supporters can be forgiven for already dreading next season.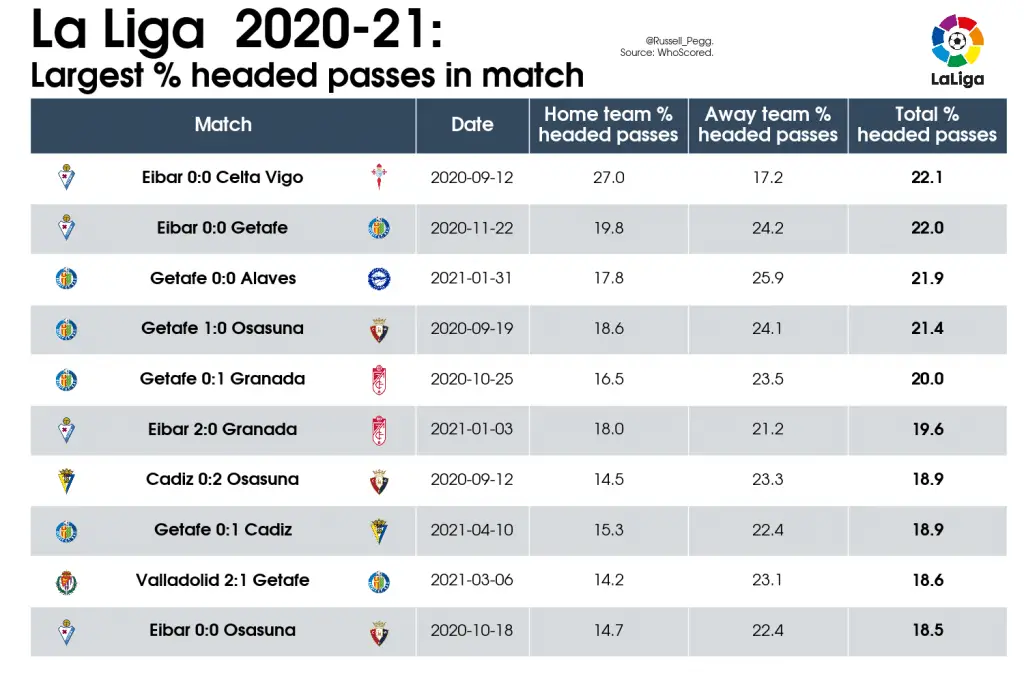 One less predictable result of this is that games featuring these hoofball exponents have a large proportion of passes in the attacking third, for the simple reason that the ball's being launched upfield so relentlessly.
So perhaps counter-intuitively, it's the games with a higher percentage of defensive-third and backwards passes – a result of more patient and artful build-up play – that tend to produce more goals and better entertainment.
To finish off, we'll look at the numbers of cards and fouls in matches. Of course, the question of whether a high or low amount of those things are "better" depends largely on how much you enjoy a bit of shithousery.
There were ten LaLiga matches in which no cards were shown, with Osasuna featuring in three of them.
Osasuna also appeared in three of the games in which the fewest fouls were committed.
We'll conclude with the games with the highest numbers of fouls and cards. By remarkable coincidence, Getafe again feature heavily.