Here we cast our eyes over the stand-out single-game player performances in LaLiga this season.
As you're no doubt aware, expected goals (xG) metrics compare chances to a large number of similar previous attempts to assess how likely they were to result in a goal.
So if a player over-achieves in terms of xG, it usually means that they're weaving gold from straw. And if they under-achieve, they're typically being wasteful in front of goal.
The biggest over-achievement came from Carlos Bacca for Villarreal against Sevilla near the end of the season, though watching his hat-trick below you have to say that the Sevilla back-line gave him a little help.
Meanwhile, the most wasteful LaLiga performance in front of goal in xG terms came from Getafe's Jaime Mata in April against Cádiz.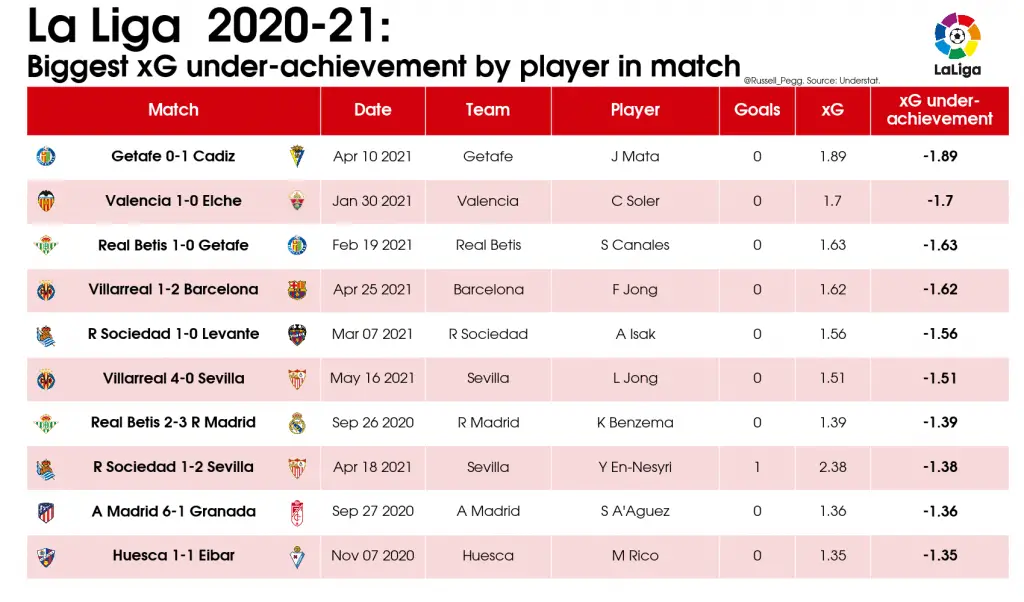 The striker's mood won't have been improved by his side going to lose the game due to a farcical David Timor own-goal.
The scale of Mata's wastefulness is demonstrated by the fact that there were only nine other instances of LaLiga players being presented with better chances than he was that day all season – and every one of them resulted in at least one goal.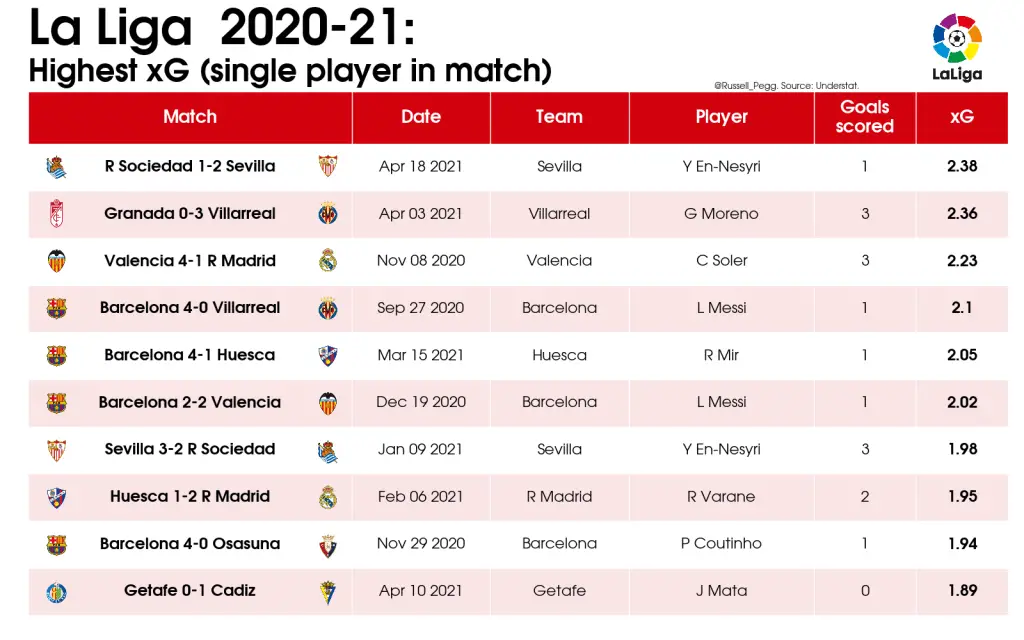 Just as xG does with shots, the expected assists (xA) metric compares the chances a player's created to a large number of similar previous opportunities to see how likely they were to result in an assist.
So a high xA number for a game means that you created high-quality chances for your team.
And in broad terms, if you're over-achieving in terms of xA, your team-mates are making you look good, whereas if you're under-achieving they're letting you down.
This becomes very clear if we look at the LaLiga season's biggest xA over-achievement in a single game.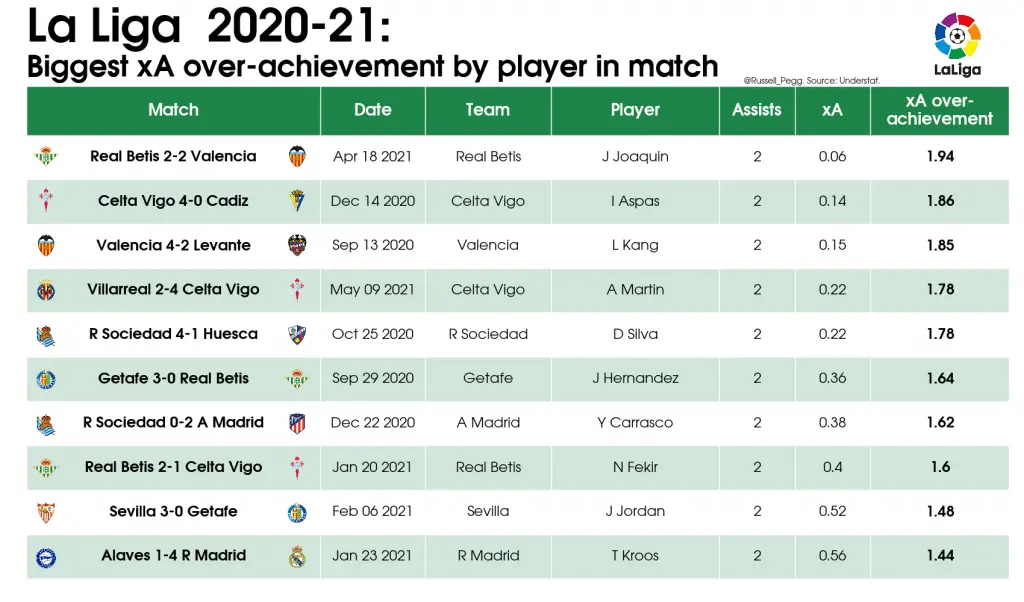 In other words, those passes from Joaquín would on average have resulted in a single goal every 16 or so matches. Here they are:
It's a decent cross for the opener and a deft lay-off to set up the second, but the vast bulk of the credit has to go to Nabil Fekir and Sergio Canales respectively.
At the other end of the spectrum, these players' team-mates owe them a few apologies:
Joaquín also ranks high in the table for most chances created by a player in a match, alongside another evergreen Spanish forward, Iago Aspas.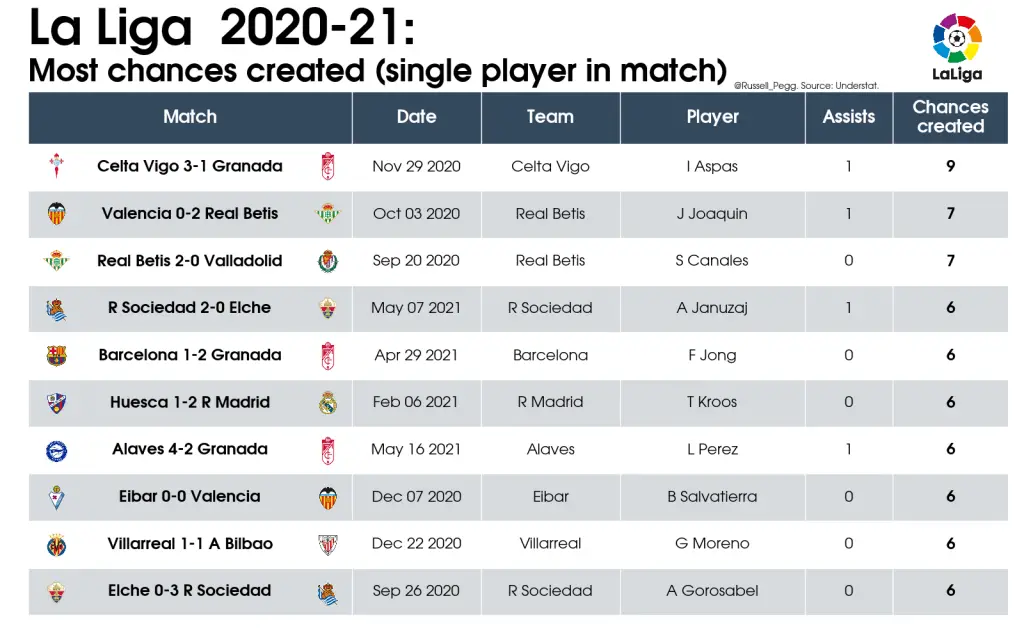 That Apsas master-class against Granada represented by far the highest quality of chances created by a single player in a LaLiga game – even though he only earned one assist for his efforts.
Finally, no statistical review of La Liga players can be considered complete without a nod to the greatest player in the world, so we'll finish by looking at the highest single-game totals for both shots and shot involvements.
Shot involvements just means a player's attempts on goal plus the shots set up by that player for their team-mates.
And a certain Lionel Messi certainly stands out…