Two El Clásico defeats in the space of seven days, followed by a Champions League humiliation to Ajax in early March 2019 brought an early and unceremonious end to Real Madrid's 2018/19 trophy hunts. After the departure of talisman Cristiano Ronaldo in the summer prior, the club suffered a brutal fall from grace. Santiago Solari became the second manager to be sacked at the Bernabéu, and the alarm bell of a rebuild rang loudly. However, the face of Madrid's rebuild was already there.
Teenage Brazilian prospect Vinicius Junior was expected to be moulded in slowly through the Madrid's B team – Real Madrid Castilla. But amidst the management crisis, the coinciding terrible form of the first team who appeared burnt out and unmotivated, and the constant cries of a 'Ronaldo replacement', the 18-year old was thrown in at the deep end in the middle of the season. Occupying Ronaldo's vacated left wing spot, he flourished, displaying pace and dribbling ability far greater than players of his age. In many games that season, Vinicius was by far Madrid's brightest spark, taking on and getting past defenders at will. In a dire season, Vinicius was often Madrid's only ray of hope.
Such was his influence that in the first of the two Clásicos in 2019, Barcelona manager Ernesto Valverde opted to start two right-backs (Nelson Semedo and Sergi Roberto) to counter Vinicius' flair and trickery. It wasn't enough. While the scoreline was 3-0 to Barcelona at full time, Vinicius was the best player in the opening 45 minutes, running the likes of Semedo and Gerard Piqué ragged multiple times. However, this is where Vinícius' greatest flaw was revealed. The Brazilian's composure in front of goal was at the other end of the spectrum in comparison to his phenomenal pace and dribbling; at the end of that game, he had notched up 75 shots for the season but scored just thrice.
Vinicius' season was cruelly cut short through injury in the game against Ajax, but the Brazilian had left Madridistas with a scintillating teaser.
In the following two seasons under Zinedine Zidane however, Vinicius' growth was stop-start. It would be unfair to say he stagnated, but a lot of the time the headlines surrounded his lack of end product rather than his ever-brilliant creativity down the wing. Vinicius often seemed to play in fear of a deadline, and occasional moments of world-class brilliance prevented a prolonged spell on the bench. Against Osasuna in September 2019, Vinicius scored a stunning long ranger and broke into tears; it was a hugely crucial goal that he needed after having failed to break into Zidane's preferred XI on a regular basis.
The lowest point of Vinicius' inconsistency at Madrid came in a 2-2 draw against Borussia Mönchengladbach in October 2020. Losing 2-0 at the break, a video of a conversation between Karim Benzema and Ferland Mendy went viral. Benzema appeared to say: "Don't pass the ball to Vinícius. On my mother's life, he's playing against us." The damning part was that several Madrid fans agreed with Benzema; Vinicius' lack of end product often reached a level of extreme frustration, and his development into a truly elite forward carried a big 'what-if' on its back.
That isn't to say he didn't have some memorable performances. He scored the winner in a six-pointer El Clásico to hand Madrid command of the 2019/20 title race, as well as a brilliant brace against Liverpool in the Champions League quarter-finals in 2020/21: two of Zidane's best games in his second spell in charge of Madrid were spearheaded by Vinicius' goals.
Yet, the overwhelming feeling around the Brazilian talent was "if only he could finish". Vini emerged as the epitome of a modern-day flair player; a player who, when on song, fills the viewer with joy, beating defenders with ease with a glittering display of trickery. A player who is breathtaking to watch but carries the innocence of not making the right decision in every offensive manoeuvre. Every Madridista wished for Vini to develop the cold-blooded instincts that would undoubtedly elevate him to a greater level. In the eyes of fans, Vinicius became a player well capable of gliding past four defenders, only to inevitably mess up the "easy" one-on-one against the goalkeeper.
Therefore, when Vinicius calmly slotted it past Aitor Fernández (on his left foot no less) after latching onto a throughball against Levante in gameweek 2 of La Liga 2021/22, many Madrid fans were surprised. Even more surprise followed when he flicked another past Aitor minutes later to complete a brace. Three goals for the 21-year-old in less than 45 minutes of football into the season, and suddenly Madrid fans were left wondering whether this was just a purple patch or had he finally taken the leap of faith.
So far, just three months into the current season, Vinicius has already gone past his previous best season goal tallies. Not only that, he has been one of the most productive players in La Liga, with his seven goals and two assists in 11 games only second to Benzema's obscene tally of 16 goal contributions in 10. Add to that a further four goal contributions for Vini in the Champions League. In sharp distinction to Zidane's compact and resilient approach, Carlo Ancelotti's Real Madrid have been dynamic and open, and the forwards have thrived. But take nothing away from Vinicius. The Brazilian has worked on criticism, reportedly spending extra hours in training to perfect his finishing.
Ancelotti has also given invaluable advice to the young attacker. The Italian recently said in a press conference: "For scoring goals, I've told him (Vinicius) that it's rare to score after taking five or six touches. To score, you need one touch or maybe two maximum. You have to be in the area. He's very young and he'll improve."
Ancelotti has also shown immense faith in Vinicius, and has reaped the rewards. He is now an indispensable starter, well ahead of Eden Hazard in the pecking order. The Belgian has found it difficult to overtake Vinicius even when fit. Last Saturday, Madrid's number 20 scored a superb brace against Elche, with another cool left-footed finish for the first and a well-timed dink for the second. Madrid have been over-reliant on Karim Benzema for any sort of offensive productivity for the best part of three seasons, but Vinicius showed his capability of leading the line in the former's absence.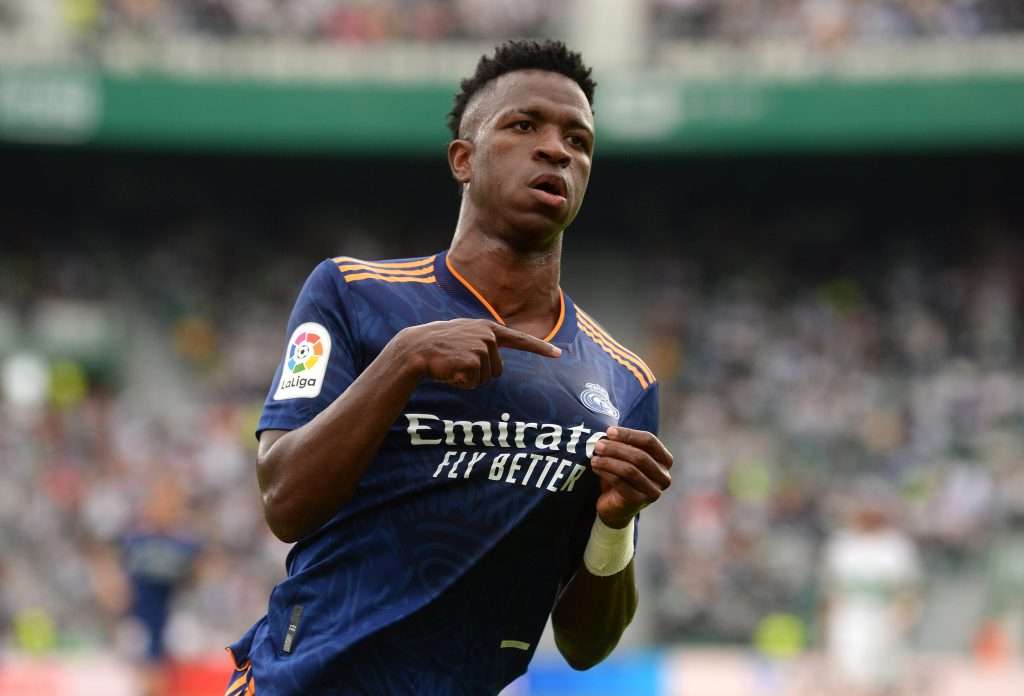 The improvement does not cap in his finishing ability, though. Every aspect of Vini's game has bettered, be it his decision-making, his off-the-ball movement or his passing.
Real Madrid president Florentino Pérez was left to rue missing out on Neymar in 2013, as the latter went on to become one of the world's finest. Since then, it seems as if Pérez had almost made it his mission to never miss out on another Brazilian gem. His signing of Vinicius from Flamengo in 2017 for €45 million, a record for any teenager and the second most expensive Brazilian transfer ever, was the first sign of such an intention. And while he may have had to wait for Vini to launch himself into stardom, he will have struck more than a bang for his buck if the now 21-year-old continues this upward trajectory.
It has been obvious since day 1 that Vinicius had in him X-factors that few in the world could cope with. All that was needed was the ruthlessness in his end product. However, patience and faith is exactly what was required with him. The astonishing numbers put up by Kylian Mbappé or Erling Haaland are anomalies, which may have swung our expectations of young players coming through. Vinicius has proven this season that given the belief and the persistence, his star can shine just as bright. Irrespective of which Galáctico arrives in the coming years, Vinicius now looks set to write his own story of greatness wearing Real Madrid white.