Newly promoted Granada CF had a dream return to La Liga last season and managed to qualify for European football for the first time in their history, but just how did a team without a top 10 top-flight finish since the 1970s achieve this? The cynics among you will point out that it's only because the Copa del Rey final couldn't be completed in time to comply with UEFA requirements, but 2011/12 was the last time the seventh-placed team in La Liga didn't qualify for Europe, and they would have only failed to qualify if Athletic Club won the Copa del Rey final. 
Most teams that overperform pre-season predictions do so on the back of a strong and/or overperforming defence. However, The Andalusians conceded 45 goals, an impressive but by no means spectacular number (eighth-best in the league). This is also four more than their expected goals against (xGA), showing that they actually underperformed their underlying defensive numbers last season, according to Statsbomb via fbref.com.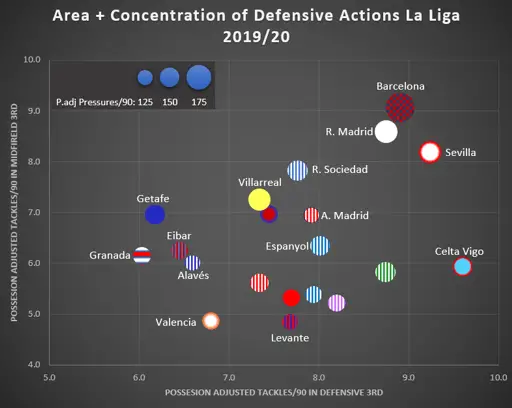 Stylistically, Granada are one of the most passive defensive teams in the league. Their possession adjusted tackles/90 in the defensive third of 6.03 is the lowest in the entirety of La Liga. While they were third in the league for total pressures, once adjusted for possession they were below average. A key to the defence has been their lack of defensive mistakes: they have conceded just four goals from a defensive error, which is the joint best in La Liga and at least five fewer than more than half the league. A solid defensive pairing of German Sánchez and Domingo Duarte ensured a strong return to Primera.
Going forward, Granada had 4 main sources of goals: Carlos Fernández (10), Darwin Machís, Antonio Puertas and Roberto Soldado (all 7). In the 4-2-3-1 system that they played for the majority of the season, Machís and Puertas played out wide with Machís more as an inside forward on the left, cutting inside to shoot, and Puertas adopting a more traditional wider role on the right. Soldado played as the lone striker, and Fernández, on loan from Sevilla, spent time in both the number 10 role and at striker.
Alvaro Vadillo and Ramon Azeez also rotated in the three attacking midfield roles, so much so that Soldado with 2347 minutes (68% of max) had the most game-time of all offensive players in the squad. Top scorer Carlos Fernández was the king of taking great goalscoring opportunities: His 0.18 xG/shot was the 3rd best in La Liga.  Machís however was on the other end of the spectrum, taking 50% more shots than any other player in the team but constantly attempting low-quality shots at 0.07xG/shot. Granada fans will be accustomed to the sight of Machís shooting from the outside of the box on his stronger right foot.  
Machís joint-led the team with five assists, and Soldado chipped in with 4, but both did so in very different ways. Machís' ball carrying skills were central to Granada's play whilst he was on the pitch, with his 164.2m/90 ball progression through dribbling, 14th best among La Liga forwards and midfielders. Unsurprisingly for anyone who watched Soldado during his spell at Tottenham, his chance creation was achieved more through hold up play than any ball progression through either carrying and passing.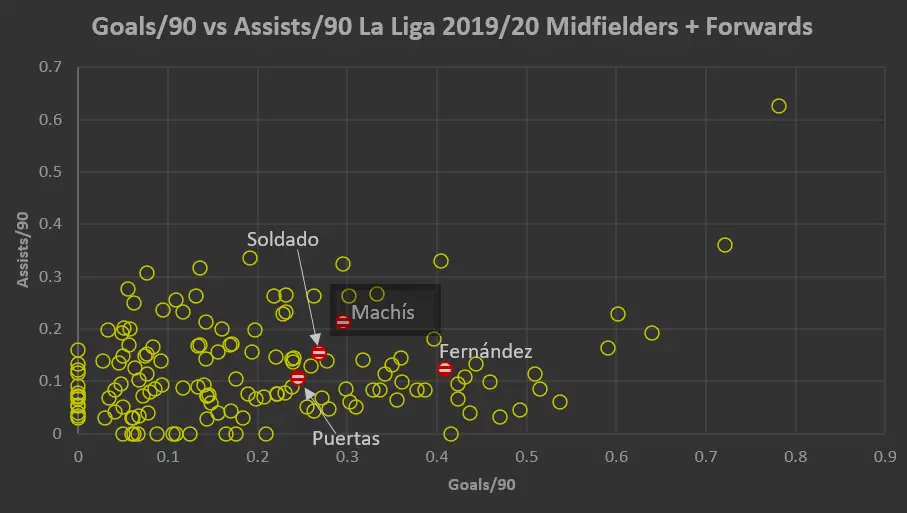 Another important feature of Granada's play whilst in possession of the ball was right-back and club captain Víctor Díaz's progressive passing. He ranked third among La Liga full-backs after Dani Carvajal and Jesus Navas in total progressive pass distance whilst also laying on five assists last season. Looking at progressive pass distance also tells us how Granada like to play out from the back: not often. Keeper Rui Silva had the second-highest progressive pass distance and long passes attempted in the league last season, only behind Getafe's David Soria.  
Granada have boosted their squad for the 2020/21 season, with the addition of veteran striker Jorge Molina from Getafe likely to prove invaluable in their quest for a strong run in the Europa League. Head coach Diego Martinez has had a huge impact at the club since taking over, even guiding Granada to the top of the league in October. Martinez maintained at the time that he wasn't checking the league table as it was too early to get excited. Granada now prepare for their first ever European adventure and another shot at a top 10 finish in La Liga.