Facing a Real Valladolid side fighting to avoid relegation, Diego Simeone and Atlético Madrid overcame their final obstacle on the final matchday to win Atleti's 2nd league title of the 21st century, and 11th overall; courtesy of a Luis Suárez strike. A lot of the intangibles of a Simeone side remained present in Atlético throughout the season; grit, determination and camaraderie through moments both good and bad. However, the Argentine displayed his ability to adapt and improve as well.
From personnel selection to his team's shape in and out of possession, Simeone, his coaching staff and the players illustrated their ability to play in different ways. That, as well as other reasons, ultimately led to Atleti's triumph, here are some of them:
1. The Acquisition of Luis Suárez
In recent years, Los Colchoneros struggled when it came to scoring goals, relying largely on Antoine Griezmann's flair and clinical finishing from 2017/19; and an inconsistent Álvaro Morata in 2019/20. By 2020/21, Atleti had gone 3 seasons without scoring 60 goals in a league season and 2 without scoring over 1.5 goals per game. For comparison, Barcelona and Real Madrid regularly scored over 90 league goals per season each post-2010, and a Real without Cristiano Ronaldo have still scored more than 60 league goals a season annually since the legend's departure in 2017/18.
Atleti needed goals in order to challenge for their first LaLiga since 2013/14, and this led the club to follow a similar strategy to that season; buying an unwanted, aging but prolific goalscorer from Barcelona. During 2013/14, David Villa was brought in and scored 13 league goals to aid the Madrid side's successful title charge. Diego Costa was the main man then in all fairness – scoring 27 league goals and 36 in all competitions – Villa's exploits nonetheless lessened the load on the Spanish-Brazillian.
Suárez was Barca's underappreciated striker of the more recent era and was acquired by Atleti for only €6 million. The 34-year old Uruguayan featured more in the Costa mould in 2020/21, scoring over 30% of Los Colchoneros' 67 goals in LaLiga as his 21 goals led the Madrid side to their 11th LaLiga triumph; Suárez even scored the winning goal on the final day to seal Atleti's title. The marksman finished as Atlético's top scorer in his debut season in Madrid, and with 1 year left on his contract, Suárez has proven he can still perform at the highest level.
2. Change in Team Shape during Build-up and Defensively
2020/21 also saw an evolution in the tactics of longtime Atleti coach, El Cholo. This presumably came about due to the unique scenario of both Barca and Real being in crisis which increased Atleti's chances of lifting the title. A devout follower of the 4-4-2 formation which has brought both Simeone and Atlético much success, El Cholo altered his philosophy coming into 2020/21, relying more on a 3-man defence. Simeone had used this in the past but intermittently; yet in 2020/21, the 3-5-2 was Atlético's most used formation in LaLiga (as seen below).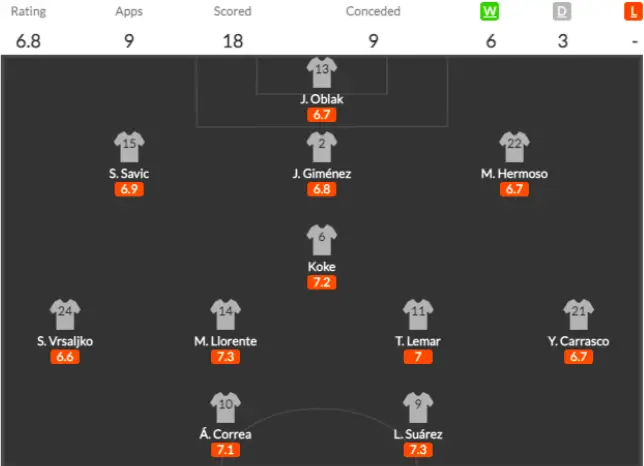 Some variation of 3 at the back was used by Atlético during 57% of their 2020/21 LaLiga games. For comparison, El Cholo used a back 3 only once domestically in 2019/20. In buildup, this was done in order to have a numerical overload when passing through the opposition's first line of defence i.e. 3 defenders vs 2 strikers/1 striker, 3 defenders + GK vs 3 forwards etc. As opposed to the 4-4-2, it also allowed Atlético to play a more possession-based game as opposed to being direct (According to FbRef, Atleti's avg. possession per game in 2019/20: 48.5%; 2020/21: 52.4%).
With more technical players such as Suárez and João Félix in the starting eleven, having more of the ball suited Los Colchoneros. The formation also gave Simeone's men more width whilst on the field. The wide defenders pushed higher as wing-backs due to having cover in defence, this width then created spaces that could be exploited by Atlético's more technical players in zones 8 and 11. If one of the strikers then dropped into midfield, Atlético would have a central overload as a result i.e. 3 Atleti midfielders +1 striker vs 3 opposition midfielders.
In defence, the 3-5-2 prevented central overloads from occurring when Atleti didn't have the ball as opposed to the 4-4-2, where the 2 central midfielders could be overrun. The formation also prevented disorder in the defensive line when a defender stepped out to execute a defensive action i.e. when the ball is distributed widely, the wing-backs could pressure the opposition player knowing the same-side wide centre-back was covering any space in behind.
Atlético's Expected Goals Allowed (xGA) stood at 35.67 in 2020/21 yet Los Colchoneros conceded only 25 goals. Whilst Jan Oblak's PSxG accounted for 6.8 of that margin of 10.67 due to his elite shot-stopping ability; the defence evidently also played a part in making Atleti the strongest defence of the season just passed.
3. Jan Oblak
Having won LaLiga's Zamora trophy for best goalkeeper in 4 out of the last 5 seasons pre-2020/21, it was difficult to fathom how Slovenian shot-stopper Jan Oblak could possibly improve; and yet he did. Oblak captured the Zamora once again in 2020/21, keeping 25 clean sheets after playing every game of Atleti's triumphant league season. It was the fifth time the Slovenian shot-stopper had won the accolade – the joint-most in history – and the past season was likely Oblak's best yet.
Los Colchoneros only conceded 25 league goals in 2020/21 despite xGA (Expected Goals Allowed) illustrating that Atleti should have conceded 35.67 goals. This was the 2nd highest margin between xGA and Goals Allowed in Spain's top flight after Real Madrid, and only by .03 (Source: Understat). Oblak personally faced post-shot xG of 31.8 goals (Source: FbRef) in 2020/21 yet conceded only 25, his margin of 6.8 being the highest in LaLiga. PSxG adds another dimension to the expected goals metric by taking the trajectory of the shot into account i.e. a shot into the top corner has a higher PSxG than a central shot.
Oblak ranking top in this metric illustrates the Slovenian is still an elite shot-stopper. The past season also indicated an improvement in his ability to save penalties. Oblak saved 50% (2/4) of the penalties he faced in LaLiga in 2020/21; he had failed to save any of 9 in the 2 seasons prior. The Slovenian evidently hasn't peaked yet and at 28-years old (young for a 'keeper), that's a scary prospect.
4. Barcelona and Real Madrid's Deficiencies
The two traditional powerhouses of LaLiga began their 2020/21 league campaigns with financial struggles at the forefront of their issues. Real had to bear the cost of renovating their home ground, the Santiago Bernabéu in addition to COVID-related losses from having no fans in stadiums. This led to no new players coming in prior to the aforementioned season, despite Los Blancos' aging squad (average age = 27.3) and core players such as Modric, Kroos, Benzema and Ramos being the wrong side of 30.
Barcelona's financial situation, on the other hand, was more critical due to mismanagement of funds by former president, Josep Bartomeu. The pandemic only served to illustrate how serious Barca's financial problems really were, as the Catalan side owed over €1 billion in debt. Nine figure sums spent superfluously on the likes of Ousmane Dembélé and Philippe Coutinho failed to pay off and could certainly have been used more efficiently. Antoine Griezmann was another unnecessary transfer that also cost 9 figures; he has been misused since his arrival at the Catalan club in 2019.
Luis Suárez was sold to Atlético in a bizarre manner considering what the Uruguayan had done for Barca. A 30-year old Miralem Pjanic was acquired in a swap deal with Juventus which saw Arthur (another underwhelming Bartomeu signing) depart. Pjanic barely played in 2020/21, appearing 30 times, so was likely not a necessity. Now, the Catalan side have to reduce their wage bill by over €200 million in order to register new players for 2021/22, as well as resigning Lionel Messi, who is currently (and inexplicably) a free agent.
As seen above, 2020/21 seemed like the perfect opportunity for Los Colchoneros to win league title #11. A Real team that scraped to the title in 2019/20 was aging and lacked end product in attack whilst not bringing in new players, and Barca have been in crisis for 2+ years now. Atleti grabbed the opportunity (albeit not until the final game week), bringing in the right attacking personnel in Suárez and Carrasco, whilst being able to rely on the defense and Oblak to often be impenetrable for large parts of the season. As a result, Atleti emerged victorious over both sides in crisis and overly reliant on the likes of Benzema and Messi respectively.
5. Marcos Llorente's Versatility
Initially only seen as a technically sound player who could play anywhere in midfield, Marcos Llorente destroyed that narrative in spectacular fashion on the biggest stage. The Spaniard, who didn't even start the 2019/20 UCL round of 16 2nd leg tie vs Liverpool, came off the bench tasked with playing as a second striker in a 4-4-2. By the end of the game, Llorente had contributed to all of Atlético's goals (2 goals, 1 assist) as Los Colchoneros knocked out the then-defending champions of the UCL.
Since that game in March 2020, Llorente's career has only gone from strength to strength. He won his first cap for Spain later that year and 8 more in 2021 whilst becoming a regular starter in Diego Simeone's side i.e. In 2019/20: 50% of his games were starts whilst in 2020/21: 88.5% of games Llorente played were from the start. The Spaniard – deemed surplus to requirements at Atleti's rivals Real Madrid – suddenly looked like the fittest player on the pitch during most of his games, and this was due to a change in diet which sees him avoid processed foods while following a paleolithic regimen.
2020/21 was the best season of the 26-year old's career so far, both in terms of minutes and output. Having only played 2500+ minutes once in five seasons prior which was whilst on loan at Alavés, Llorente played 2956 minutes in the 2020/21 La Liga season, the third most in the Atlético team behind only Jan Oblak and Koke (Source: FbRef). Despite switching between playing as wing-back, wide midfielder and his natural role as a central midfielder, the Spaniard contributed the same amount of league goal contributions as Luis Suárez, with 12 goals and 12 assists throughout the campaign.
In LaLiga, Llorente had the most assists in the Atleti squad and ranked second in the team for goals as well. The astonishing thing is the midfielder still managed to contribute defensively in spite of his voluminous offensive contribution. As seen below in the scatter plot, Llorente ranked top in the title-winning side for successful pressures per game with 5.85 per 90, while Koke and Saúl Ñíguez are the only midfielders who ranked higher than him for tackles won per game. Bearing in mind that the duo's attacking numbers were much lower – 3 La Liga goal involvements each – Llorente is clearly the best midfielder in Atlético's team right now due to his elite fitness and quality when on the ball.
Entering his peak years and now a regular member of Spanish national team, Simeone would be wise to build the team around his midfield dynamo.