Atlético Madrid are going through one of their worst spells since Diego Simeone arrived at the club in December 2011.
Los Rojiblancos currently sit fifth in La Liga, are 17 points off leaders and cross-city rivals Real Madrid, and have only won two of their last eight games.
Manchester United come to town soon, in the last 16 of the Champions League, but doubts are already creeping in as to whether the reigning La Liga champions will qualify for the next edition of the Champions League.
Since the beginning of 2022, they have also missed out on the chance of winning the Spanish Super Cup and the Copa del Rey.
Where does the problem lie? João Félix may know, although Simeone responded on Friday to the player's comments to The Athletic.
"If you have a chance, ask João. If he is clear about what the problem is, it would be good to know," Simeone said in his press conference before Atlético's clash with Getafe this weekend.
The Portuguese player told The Athletic that he is aware of the current issues at the Wanda Metropolitano.
"I don't know. There are a lot of reasons, I can't tell you one. We know what is happening, but I prefer not to talk about that," he said.
Defensive issues
The data shows clearly that their main problem is their defensive vulnerability.
Defense has been the foundation of Simeone's success since his arrival at the club at the end of 2011.
Atlético are just 22 games into the season and it's only early February but they are on course for their worst season defensively under Simeone.
They have conceded 30 goals in the opening 22 league games, a number only surpassed by the 31 goals conceded in 2012/13, the Argentine coach's first full season in charge.
According to a report by Goal, Jan Oblak and Real Madrid goalkeeper Thibaut Courtois have had an average save percentage of 80% since 2012 – but this season the Atlético shot-stopper has only stopped 44% of shots in the league – the worst percentage of all of La Liga's first-choice keepers in 2021/22.
The percentage of shots that end up hitting the target has jumped dramatically from 20% to 56% this season, once again demonstrating the cracks in a defence that now concedes more shots in better scoring positions for opposing teams.
During the Simeone era, Atleti have before now, been conceding less than one goal per game, boasting an impressive average of 0.68 goals conceded per game.
This season they are letting in an average of 1.36 goals per game.
The average number of clean sheets per season with Cholo has been 19, exactly half of the 38 matches in a La Liga campaign. Oblak has only kept six clean sheets this season.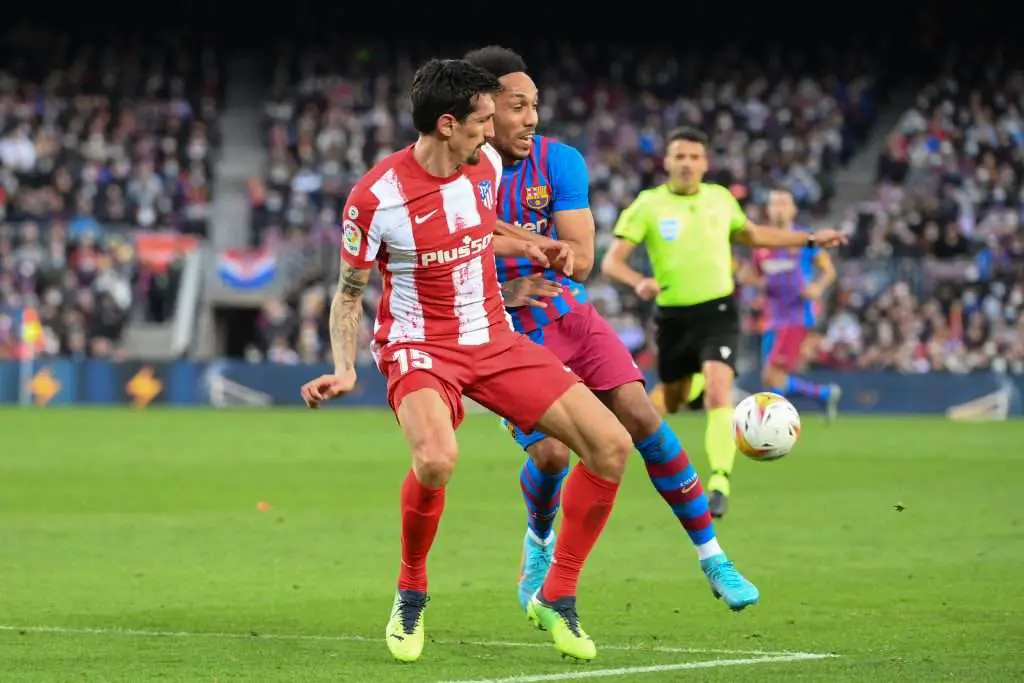 Saying goodbye to La Liga
This will be the first season in which Atleti have conceded more than 31 goals under Simeone and they could very easily end up conceding close to 50 goals.
They are also highly unlikely to retain their La Liga title with these numbers and look unrecognisable from Atlético sides over the past decade.
In previous seasons, it was tight, cagey and disciplined. Atlético would get over the line with 1-0 victories, far from exciting, and Simeone was often heavily criticised for it, but it worked.
They may be more fun for the neutral nowadays, but Atlético fans will have to accept that a title rival will lift their trophy this May, something they are more than used to at this stage after years of watching Real Madrid and Barcelona dominate.
In the recent Amazon Prime Video docu-series on Simeone's life, 'Vivir partido a partido', the 51-year-old says he could see himself in his Estudiantes side that won the Argentinian title in 2006. Can he see himself in this Atlético Madrid side at the moment? Perhaps not.