This week, Get Spanish Football News sat down with LaLiga TV presenter Semra Hunter for an extensive, exclusive interview to discuss her career to date in the world of football.
Having grown up in California, she travelled to Spain to forge a career in football media that has gone from strength to strength.
We discuss Gareth Bale's Spanish, her love of 90's hip-hop, and the more serious subject of inherent sexism in the football industry. This is her story.
You studied international area studies at UC Berkeley. How did you pivot from that into the world of football broadcasting?
Okay, so there is a background to that. I was born and raised in Los Angeles. As I'm sure you know, the main sport for females in the US is, soccer, or football, call it whatever you want!
I actually wanted to be a professional player. That was always my number one dream. That was what I wanted to do.
If I wasn't at school, I was dedicating my time to playing football. But I had a serious injury when I was about 16 and that was basically the end of that.
So my other passion in life was travel and I had this really romantic idea of what working at a consulate or at an embassy. When I went to Berkeley, I thought, okay, I'm going to study international relations, only to find out four years later that I really hated politics.
When I graduated from Berkeley, I had already lived in Spain for a year having done my year abroad in Barcelona. I knew that I wanted to come back to Barcelona, but I wasn't sure what I wanted to do in terms of a career, or what was going to be my next step.
At this point, my mom had planted the idea in my head, because my parents are really big sports fans. They love all sorts of sports, especially American sports. She said that I would make a great sideline reporter. It's football plus travel and I just thought that's a brilliant idea. I can't believe I never thought of it myself.
From there, I applied for a master's program that was specific to sports journalism and communication, because I knew that was the only kind of journalism that I wanted to do and I got accepted. That started in Madrid and was my first foray into the world of broadcast journalism.
After your masters, you got a job at Al Jazeera. How did that come about and what was your role?
When I was doing my Masters, in March of that year, we went to a production company called Mediapro. It was one of the biggest production companies, not just in Spain, but globally. They took us for a behind the scenes tour of the network to see how it works.
At the end of the tour, I stayed behind a few minutes and spoke to the guy who gave us the tour, who was one of the bosses at the time, and I said, look, this is my situation. I'm American. I'm native English. I'm here on a student visa. But I want to work in football. Do you think there's a possibility that I can break into the industry here?
We were talking for a few maybe 10 minutes and he told me to send on a CV. Two weeks later, he writes to me and says okay here's your internship, start whenever you want. I was shocked because I had zero skills at that point in time. I had only done a master's program for about six months.
My initial job was script writing. I would write scripts in English based on scripts that were written in Spanish for a program called The Giants. It was about Madrid and Barcelona, and it was for international audiences. Very quickly, though, they started to use me for many other things.
Your work at Al Jazeera ultimately led you to be headhunted by Real Madrid TV. What was your relationship like with staff and players at the club during your time there?
I spent a lot of time at the training ground and, with us being the in-house TV channel, we had more access to the players than the average journalist. For example, I could do my reports pitchside while the players were training in the background.
At the end of press conferences, there would be one question in English, which invariably I would ask. It was a fantastic time that I spent there, one that I will never forget.
At that time, Carlo Ancelotti was in charge. For some reason he always reminded me of my Dad! He was very chill, super Italian, and laid-back. He was a joy to speak with.
There was a larger Spanish side to the channel and then us on the English side of things. Carlo would speak to me predominantly in English, although he was very comfortable in Spanish too.
Of course, you weren't the only high-profile English speaker at the club over the last few years. What can you tell us about Gareth Bale's supposed lack of Spanish and how he was treated by the club towards the end?
I did have quite a bit of contact with him in English. I have nothing but good things to say about him. My personal experience was very positive. He was always incredibly friendly and easy to talk to.
I think he liked talking to me, as there was a limited number of English speakers at the club. Only Luka Modrić and Toni Kroos come to mind and a handful of others maybe.
I really enjoyed speaking with Gareth. And we would joke around sometimes, because we were trying to get him to say a few words in Spanish, which he knew, by the way. I think he was just a bit shy.
As regards his exit from the club, I don't think we can point our finger at one thing. To understand this problem, you have to understand the Spanish sports media. If for example, AS or Marca were angry with club president Florentino Pérez, they would attack him via Gareth Bale. In that way, he got caught in the middle as collateral damage.
Of course, Gareth is not blameless in all of this, he could have applied himself better at times, and his form wasn't always the most consistent. Despite all the good things that come with playing for Real Madrid, I think in the end he just became tired of the indirect attacks from inside and out of the club.
His relationship with Zidane is another matter entirely, and that has not been good for a number of years now. I don't think we'll know the root cause of that problem for quite some time. However, for all of these reasons, he was very happy to return to Spurs.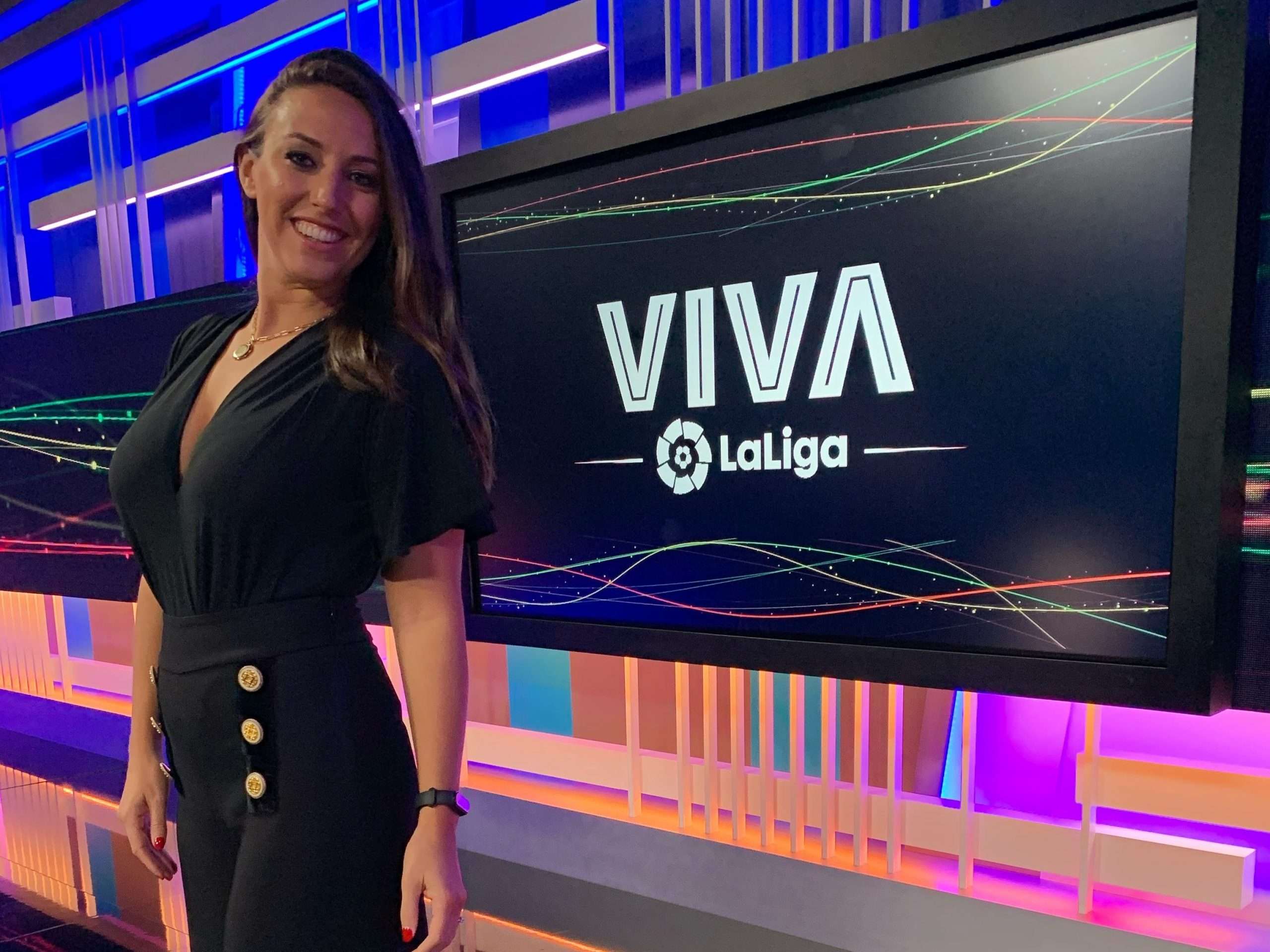 You have interviewed a lot of high profile players and managers in your time. Out of them all, who has been the most receptive and engaging?
Ohh good question. That's a tough one to answer but I would say maybe Arrigo Sacchi. I know it's not necessarily related to LaLiga. I was in London for a conference and a lot of former players and managers were there. He was there, stereotypically Italian, super charismatic, and very easy to talk to. He just gave some really interesting, technical analysis of the game.
Of the players I have dealt with, I would say again probably Bale. I went on a pre-season tour with the team a couple years back, and I went everywhere with them. I had the opportunity to speak with him there on a more personal basis over the course of a couple of weeks and that was a real privilege for me.
On a more serious note, the issue of sexism in the sports broadcasting industry has been in the news again recently. Could you describe your experiences of dealing with this over the course of your career to date?
Fortunately (touch wood) I have never experienced sexism from within the organisations that I have worked for. However, that is not to say that it doesn't exist.
Most of the sexism I have experienced in this line of work has been related to fans whether that was physically as a reporter or online comments that have been very nasty at times.
At Real Madrid TV, I did a lot of reporting from outside the stadium and part of this work was dealing with drunk, and mainly male fans. Some of their behaviour would not be tolerated in other environments but that's just something unfortunately that I had to deal with.
I don't know why people feel that they can do that. I mean, would they do that to their sisters, would they did that to their mothers? Would they do that to other women of importance in their life? I highly doubt it.
As regards the online abuse, that comes mainly from fans in the UK. I get a lot of nasty comments, especially of a sexual nature, which is not at all appreciated. I'm not sure why this is the case as I don't seem to be targeted by fans from other continents.
Now that I spend most of my time in the studio with LaLiga TV, the physical stuff is not an issue anymore but I will always show the online stuff to my colleagues, who are equally disgusted. I try to ignore it for the most part.
During lockdown, you held a series of interviews called Tea Time Talks. What was the inspiration behind this, and will you continue the series in the future?
The inspiration was definitely boredom! I'm the kind of person that needs to be up and about, keeping myself occupied. On top of that, I really missed chatting football with my colleagues and so it was a good excuse to get back into that!
Many of these people like Quinton Fortune, Graham Hunter, and Gaizka Mendieta, I have worked with in the past but never really got the opportunity to discuss their lives on a more personal basis. This was really insightful and the interviews were very cathartic for me during lockdown.
Will I do them again, who knows? If the opportunity comes up, why not? I really enjoyed it the first time around anyway!
In this series, you posed the question to your guests of the album or song that defined their careers. Putting the same question to you, is there a particular type of music that has come to define yours?
Ohh, It's bad that I'm struggling with my own question here! I would say growing up I did listen to a lot of US hip-hop, Tupac Shakur and Biggie Smalls, that kind of thing. As a teenager, I got more into rock, and my favourite band of all time is The Doors.
I don't know now because in Spain the most popular stuff is probably electronic music and Raggaeton, which I really don't like by the way. I hope that answers your question, I mean mine!
Sort of. Finally, as a LaLiga expert, I have to put you on the spot and ask who will be crowned this year's champions in your opinion?
Unfair to put me on the spot like that but I will say that I don't think it's going to be Barcelona just because of all the chaos there at the moment.
I would like to see someone else come through and challenge, like a Villarreal or Sevilla but I can't look past Real Madrid right now. I don't think it will be convincing but they should crawl over the line.
People always ask if I'm biased about Real Madrid given my links to the club, but when I first came to Spain, I lived in Barcelona. I'll let people make their own assumptions on that because overall I'm just a fan of the league. And for the record, I grew up a Liverpool fan!